A
fter several expeditions led in tropical environments, we led during the summer 2016
a trans-disciplinary scientific and sporting expedition
a new trans-disciplinary scientific and sporting expedition to the Arctic — an area which, due to climate change, is at the epicentre of several new threats.
Our expedition project was set to explore a little-known area of Greenland, the Scoresby Sund, and gather scientific data crucial for its preservation and, more generally, to understand the impacts of climate change. One of the key elements was also to showcase the Arctic regions, their beauty and biological treasures, not only to the general public but also to the institutions able to take necessary conservation decisions.
Retrouvez ici le logbook et le rapport scientifique de l'expédition, ainsi que le film 'Groenland, les murmures de la glace' disponible en vidéo à la demande.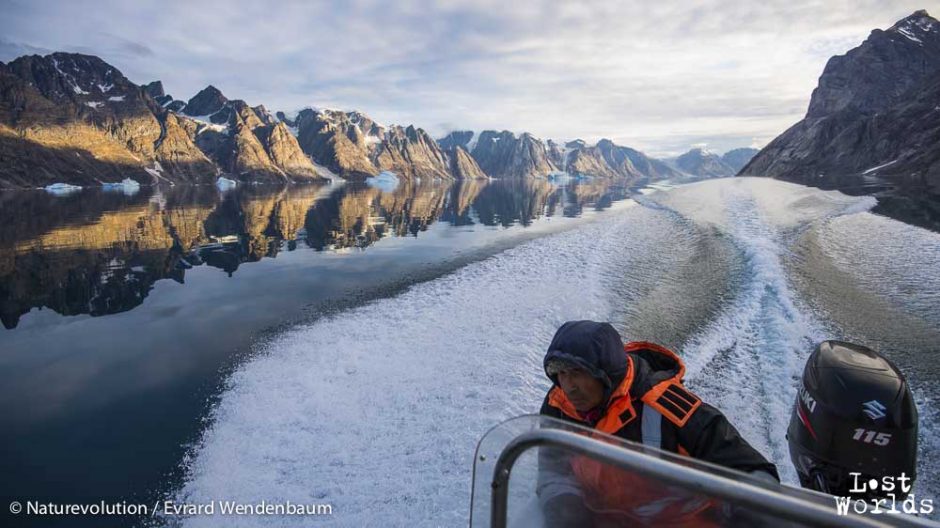 To download our expedition brochure, click on the following links : Expédition Renland (French) or The Renland expedition (English).
The Scoresby Sund
Who we are
Planning
Logistics
Detailed objectives
Communication plan
Our needs
We are now focusing on Greenland's East coast : the Renland and Jameson Land peninsula are both located in the middle of the Scoresby Sund fjord system — the largest in the world — at the southern limit of the (also) world's largest National Park.
The Renland, a virgin territory of more than 4500km2, is surrounded by huge rock faces rising straight out of the sea and reaching heights at 2300m. Together they form a cradle for a vast icecap covering the whole peninsula. This monumental piece of land is one of Greenland's last unexplored territory. Jameson Land, with a more peaceful topography, is one of the largest spread of tundra on Greenland's east coast, and therefore a vital reservoir for flora and both local and migratory fauna.
Yet, with numerous summits yet to be climbed, narrow fjords and beautiful icebergs, this land has everything it takes to be a true jewel of the Arctic. This area is also home to a healthy population of Muskox and is reckoned to be the southern limit of the elusive Arctic Wolf's range. Underwater, there are no less than six species of cetacean, including Narwhals. Finally, the place holds some archaeological remains, traces of former human settlements.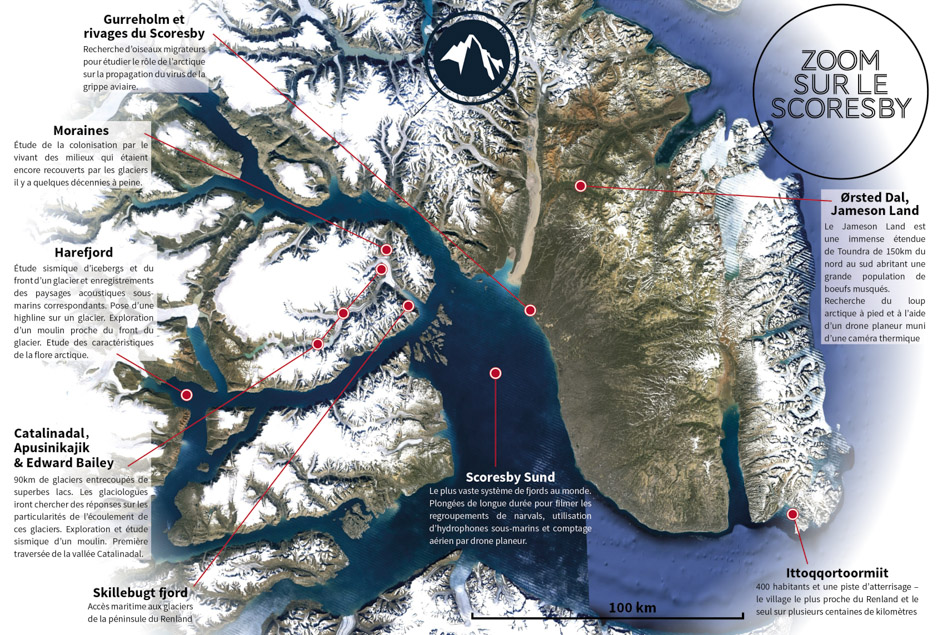 Click here to magnify the map (opens a new window) or get in touch with us if you need the English version.
Imagined and led by ecoexplorer Evrard Wendenbaum, this project will involve around 20 people on the field.
First, several scientists from various French labs (LECA, LGGE, ISTERRE- Grenoble, France), (CEFE, CIRAD and INRA- Montpellier, France), (LIENsS) along with international labs, will join to pursue various research projects. They will not only study the glaciers, icebergs and rocks, but also the wildlife and flora of this remote land.
Mirroring the scientific team, a few adventurers, divers and alpinists will put their skills at the service of scientists and attempt a few uncommon adventures in their own field.
A camera crew, photographers and an illustrator will bring back stunning images of these extreme adventures. Finally, a community manager will closely follow the expedition and report its discoveries as widely as possible.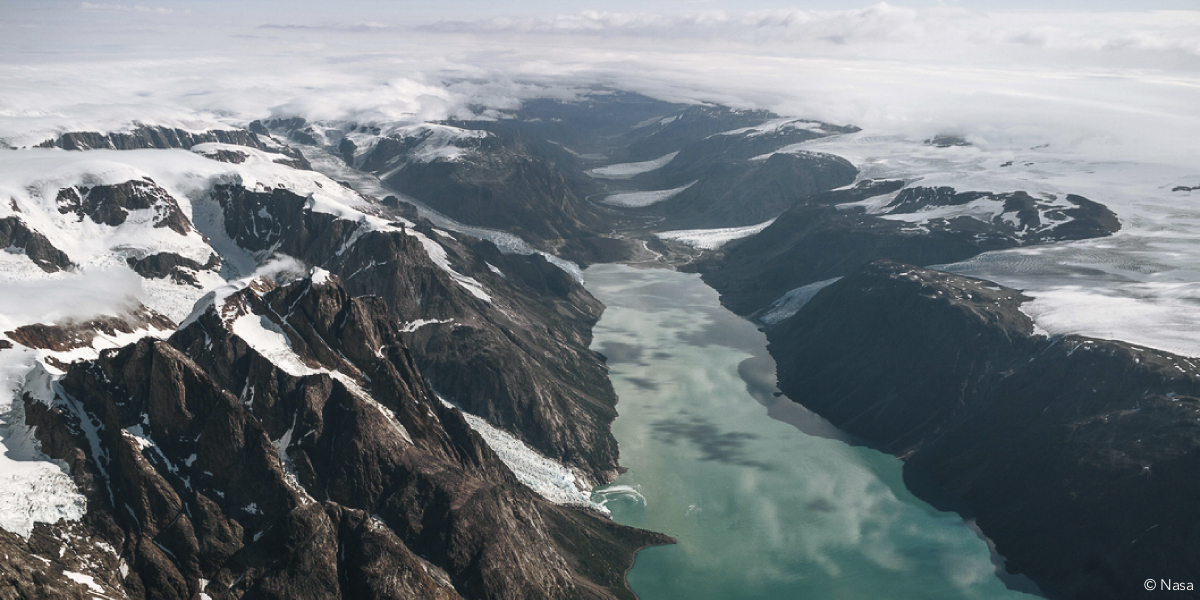 JULY 15th to 21st - Reaching the various research locations in the Scoresby Sund on Greenland's east coast
JULY 22nd to AUG 16th, 2016 – Explorations and research projects on the Renland and Jameson Land
AUG 17th to SEPT 4th, 2016 – Diving and scientific research on marine mammals and on icebergs in the fjords
SEPT 5th to 8th - Return of teams and equipment to France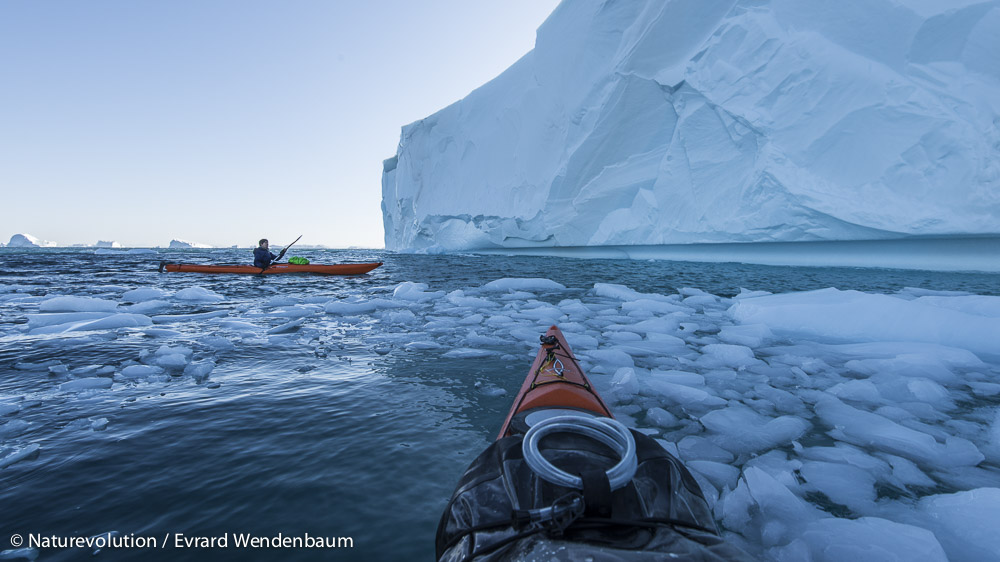 The bulk of the team will get to the Scoresby Sund by boat from Iceland. Men and equipment will be transferred between Ittoqqortoormiit and the Renland and Jameson Land peninsula with a local motor boat. The boat will also serve to carry out research and dives in the fjord.
The different missions will take place simultaneously to optimize the short period when the fjord is ice-free (mid-July to early September).
Several base camps will be installed in different spots around the Scoresby Sund depending on the scientific studies undertaken and the sporting challenges attempted.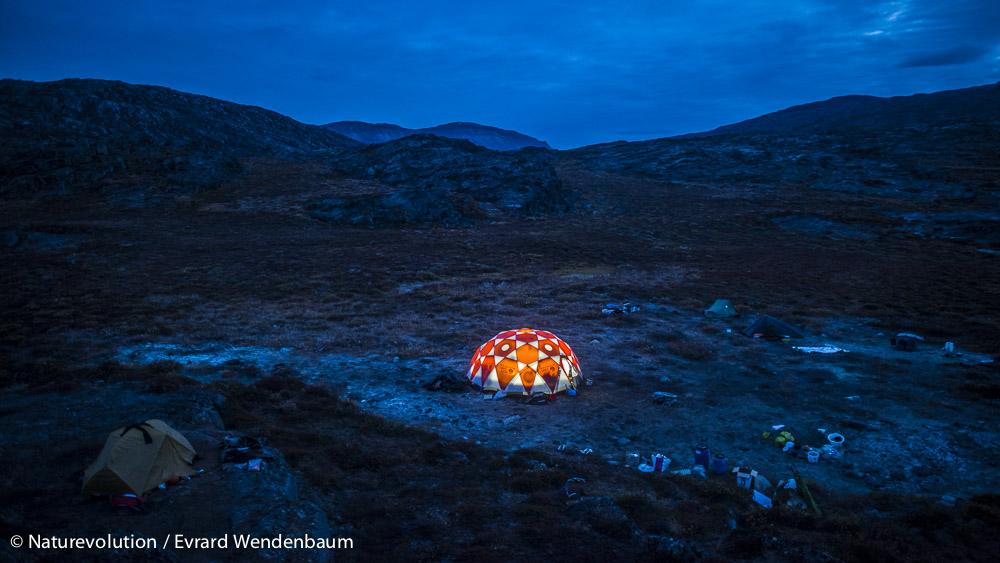 RESEARCH PROJECTS
BIODIVERSITY & EVOLUTION
Clarify the geographic distribution and explain the evolution of the population of Arctic wolves and muskoxen in the area (INRA Montpellier)
Study the role played by the Arctic in terms of storage and propagation area of bird flu viruses via migratory birds (CIRAD Montpellier)
Study the colonisation of recently deglaciated environments by living organisms (LECA Grenoble)
Estimation of the population density of marine mammals, and notably the narwhal (CIRAD & INRA Montpellier)
Characterisation of genetics, diet and condition of Greenland polar bear populations in comparison with Canada (CBGP Montpellier)
Analyse the adaptation of organisms to extreme weather conditions (LECA Grenoble)
Record the whole range of underwater soundscapes of the Scoresby Sund (Chaire Chorus – Gipsa-Lab – Fondation INP Grenoble)
GLACIOLOGY & GEOPHYSICS
Understand the mechanics of a large Greenland glacier's flow and date its significant events (ISTerre Grenoble, LGGE Grenoble)
Analysis of factors leading to glaciers seafront and icebergs dislocations (ISTerre Grenoble, GIPSA LAB)
To learn more about it, please download the list of research projects.

SPORTING OBJECTIVES
EXPLORATION
First crossing of the huge glacial valley and the Catalinadal lakes on the Renland peninsula
GLACIAL SPELEOLOGY
Explore moulins in glaciers
RAFTING
Packraft down glacier rills
MOUNTAINEERING
HIGHLINE
Slack a highline on a glacier
DIVING
Free dive with the various cetaceans of the Scoresby Sund and especially capture the first images of narwhals underwater in temperature of 0°C
Achieve the first dive in an active moulin
We want to take advantage of this adventure to showcase the treasures of the Arctic world, to raise deeper awareness among the general public to the necessary respect for nature, and to encourage authorities and civil society to take action for its preservation.
To achieve this, a camera crew, a photographer, an illustrator and a community manager will come onboard. Together, we program many communication actions which will allow us to reach several million people.
TELEVISION
A documentary will be broadcast on a major French TV channel and internationally
Two other 52-min documentaries will be made : one around the sea and the other one around the mountains. They will be broadcast on thematic channels.
TV appearances will be scheduled starting from the return of the expedition up to the release of the film.
RADIO
Radio interviews will be scheduled to take place before the start of the expedition and after its return, but also in the middle of it through radio sessions.
WEB
A dedicated community manager will work on the expedition's website and on its Facebook page during the whole project.
A web series of about a dozen episodes will be aired on a Youtube channel between the expedition's return and the launch of the movies and books.
A dedicated website and app will be released before the expedition in order to allow a daily following in real time.
PRESS RELATIONS
Several press conferences will be organized before, during and after the expedition.
Press releases will be sent out before, during and at the return of the expedition, as well as for the release of our communication media.
PRINT MEDIA
Many news articles will be published in travel, sport, science and nature magazines (National Geographic Magazine, Alpinist, Geo...) but also in the mainstream press (Paris Match, etc.).
FESTIVALS & CONFERENCES
The films will be shown in international film festivals about mountain, sea, nature, adventure and science.
They will also be screened at numerous conferences and public screenings.
Various video-conferences will be scheduled during the expedition in collaboration with educational institutes (museums, etc.)
EDUCATIONAL PROGRAM
Educational tools and school-based events will be offered in partnership with educational institutions, notably the Ministry of Education.
EXHIBITIONS
Various exhibitions will be presented in festivals, in popular science institutions as well as in schools.
BOOKS
A photographic and illustrated book will be published, as well as a children's book.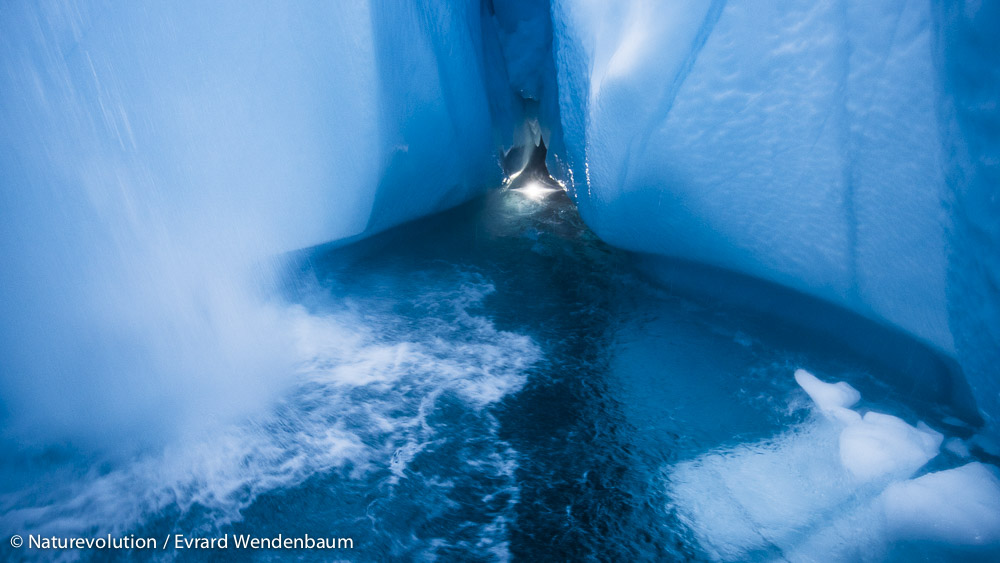 We do believe that this human adventure dedicated to the service of science and to the protection of nature will bring meaning, dreams and optimism to many. Thanks to the values it conveys, we hope it will give the desire to act for a society more respectful of our planet.
Without the support from its partners, this expedition couldn't take place. For this reason, it will offer them a strong visibility (several million people) and give them the ability to put forward values of respect, ethics, innovation, sharing, performance and commitment. It is also a fantastic platform offered to all the laboratories involved that will be able to present their research and their utility.
Many partners are already onboard, discover them here : Our partners
We are still looking for funds to ensure the success of the various objectives of this expedition. If you would like to associate yourself to this exceptional adventure, please get in touch at the following address : contact (at) naturevolution.org